---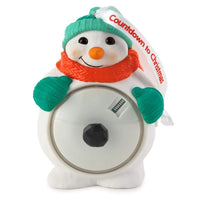 Waiting is hard so make it fun with this Christmas countdown ornament. Press the button to see a daily countdown message appear in the snowman's belly!
2015 Hallmark
Dimensions: 3.51 x 4.6 x 2.58 inches
Press the button on the ornament to see the snowman's belly illuminate with a daily countdown message.
Easy to program, with instructions enclosed.
Battery operated. Batteries (three AAA) not included.