---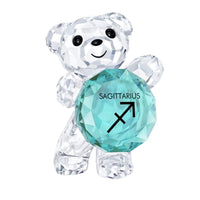 Item # 5386288 Size: 1 1/8" x 3/4" x 3/4" Swarovski?ÇÖs cute and expressive clear crystal Kris Bears have been adored by collectors for over 25 years. Now, we are pleased to launch the Kris Bear Horoscope collection. Inspired by the star sign Sagittarius, this charming bear holds a circle of turquoise-colored crystal to represent Blue Zircon, the December birthstone. The perfect birthday gift. Decoration object. Not a toy. Not suitable for children under 15.
PLEASING SPARKLE. Measuring 3.1 x 2 x 2 cm, and holds a circle of turquoise-colored crystal, Swarovski Kris Bear Figurine will add a cute glimmer to your home. This delightful crystal bear figurine is a playful yet sophisticated decoration for all occasions.
GENUINE SWAROVSKI: Swarovski products are manufactured using top quality materials so you can enjoy our stylish, unique, and fashionable items for years. Get your money's worth and order with confidence from Lijo Decor. As an authorized Swarovski dealer, all items ordered from us comes with Swarovski Seal that contains security hologram and a unique 16-digit code that you can use to verify its authenticity.
CUTE KEEPSAKE. These adorable bear figurines has been charming collectors around the world. Perfect for birthdays, new year, or any other special occasion. A lovable and special gift with a loving touch.
CARING FOR CRYSTAL FIGURINES. Swarovski jewelries and figurines have a magical sparkle. To keep your crystals shine and glimmer, make sure to Polish your product carefully with a soft, lint free cloth or clean it by hand with lukewarm water. Do not soak your crystal products in water. Dry with a soft, lint free cloth to maximize brilliance. Avoid contact with harsh, abrasive materials and glass/window cleaners.
ARTISTIC BEGINNINGS. Inspired by decades of creative collaborations and expertise, Swarovski opened its first boutique in the 1980's. The world's fascination with the new brand of Jewelry and crystal figurines began. And with this, a new tradition was born for collectors around the globe.