---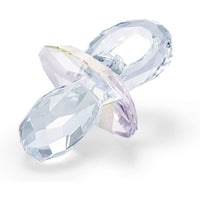 In 1891, Daniel Swarovski?ÇÖs vision was to create ?ǣa diamond for everyone?ǥ. He invented an electric machine that cut more accurately than ever before, marking the beginning of a new era for crystal. From American jazz halls to Parisian couture houses, dresses dripped with beads and Swarovski crystals, reflecting the excitement of the 1920s.
ADORABLE TWINKLE. Celebrate the arrival of a new baby with the Swarovski First Steps Collection Pacifier. 204 facets and a unique shimmer effect create a sparkling, brilliant look. Part of our First Steps Collection, it hangs on a white satin ribbon. Sure to bring a smile to any parent's face.
AUTHENTIC SWAROVSKI. It's always advisable to buy genuine products, because it comes with a guarantee that you are getting what you have paid for. Swarovski's crystal figurine is an example of sophisticated style and craftsmanship that you have come to expect. And Since Lijo D??cor is an authorized Swarovski dealer, these are sent with a code that you can use to verify its authenticity. You can order with confidence of getting an original Swarovski.
ELEGANT GIFT. Show your family and friends how much you appreciate them by giving them a stylish Swarovski product that lasts. Renowned all over the world for its premium cut crystals, your gift will earn praises and will surely be appreciated. The Baby's 1st Pacifier is a lovely gift for baby showers or other baby-related special occasions.
CARING FOR CRYSTAL FIGURINES. Swarovski jewelries and figurines have a magical sparkle. To keep your crystals shine and glimmer, make sure to polish your product carefully with a soft, lint free cloth or clean it by hand with lukewarm water. Do not soak your crystal products in water. Dry with a soft, lint free cloth to maximize brilliance. Avoid contact with harsh, abrasive materials and glass/window cleaners.
ARTISTIC BEGINNINGS. Inspired by decades of creative collaborations and expertise, Swarovski opened its first boutique in the 1980's. The world's fascination with the new brand of jewellery and crystal figurines began. And with this, a new tradition was born for collectors around the globe.