---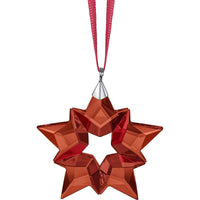 Inspired by the color of holly berries and Santa?ÇÖs Christmas suit, this vibrant star-shaped ornament features 90 scintillating facets. Beautifully crafted in our magma red crystal, it is accented with our Satin effect for an extra touch of glamour and warmth. Mirroring the design of our Holiday Annual Edition Ornament 2019, it hangs on a red ribbon and would make an ideal decoration for your tree, window, or table. Display several together for extra impact. Only available in 2019. Decoration object. Not a toy. Not suitable for children under 15.
HOLIDAY SPARKLE. This vibrant star-shaped ornament is an ideal decoration for your Christmas tree. Crafted in our magma red crystal and accented with our Satin effect, this piece features 90 scintillating facets. A beautiful Christmas display accessory that will lend a touch of glamour and warmth to your home.
TRUE SWAROVSKI. Lijo D??cor is an authorized Swarovski dealer. All Swarovski crystal pieces ordered from us are guaranteed original. Swarovski is known worldwide and is therefore prone to being imitated, but customers can now authenticate their Swarovski jewelries using the unique 16-digit code found on the Swarovski Seal. You can order with confidence of getting genuine Swarovski with Lijo Decor. Size: 4.6 x 4.3 x 0.6 cm
EXCEPTIONAL CLASS: Swarovski's commitment to crystal quality remains unmatched as they constantly strive to grow and innovate new ways to make world-class cut crystal designs that are at par to real diamonds and fine jewelries; And they have extended their collection to home decor! Truly a work of art, this home decoration will make each celebration and hosting unforgettable and sparkling with elegance!
EXCELLENT GIFT: Impress your friends and show your appreciation with a tasteful home d??cor that they will admire and be proud of whenever they entertain guests or host a celebration. An unforgettable and elegant gift all year round. Give it to your mom or wife on Mother's day or share this beauty with your friends on their wedding day or housewarming party. A gift that surely everyone would admire!
CARING FOR YOUR CRYSTAL: All Swarovski items are traditionally crafted and therefore very delicate. Polish your Swarovski crystal frequently with a soft cloth to maintain its original, lustrous finish. Avoid hard contact (i.e. knocking against objects) that can scratch or chip the crystal.