---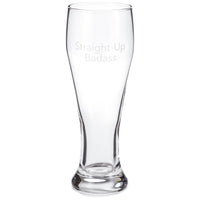 Cater to the pal who is?Çöor thinks he is?Çöthe tough guy of the group with this pilsner glass etched with the phrase "Straight-up badass." Makes a fun addition to any barware collection and is dishwasher safe for everyday use.
Stroke his ego and let him look the tough guy when you serve up an ice cold beer in this hearty pilsner glass. The handmade drinkware with etched lettering is ready to give for Father's Day or a birthday in a stylish box.
Handmade, blown glass pilsner with etched lettering.
On glass: Straight-up badass.
Holds 17 oz.
Packaged in gift box.