---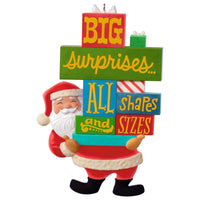 As this Christmas ornament with the jolly old elf bearing gifts depicts, Santa brings big surprises in all shapes and sizes to all good girls and boys.
How does he do it? Good ol' Saint Nick always comes through with the best gifts for boys and girls across the world. This Christmas ornament depicts the jolly old elf balancing a load of presents for Christmas delivery. Learn more about Keepsake Ornaments.
Christmas tree ornament.
Hallmark Gold Crown Exclusive.
On ornament: Big surprises...all shapes and sizes
Dated 2017 in copyright.