---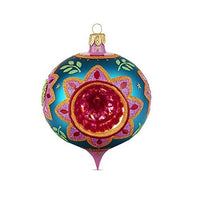 When artist Sharon Visker was drawn to the exquisite patterning and detail on a 1960s era greeting card, she reimagined the design by contouring it into the curves of this joyful Christmas tree ornament. Decorated in vibrant, contemporary colors and glitter, the distinctive ornament is shaped when the free-form blown glass is pressed while still in its molten state. Each original and ornate, blown-glass Hallmark Heritage Ornament is inspired by the art from the Hallmark Archives, interpreted by a Hallmark artist, and then hand-blown and crafted by artisans in Poland.
Designed by Sharon Visker, this blown glass Christmas tree ornament comes pre-packaged in a box for easy gift giving, preservation and storage
Glass Christmas tree ornament is lead-free and measures 3.52" W x 4.42" H x 3" D.