---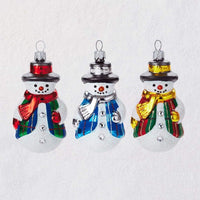 Let it snow! This set of three dapper snowmen glass Christmas tree ornaments is sure to make the season merry wearing their wintry wardrobes accentuated with glitter and gemstone accents. Each original and ornate, blown-glass Hallmark Heritage Ornament is inspired by art from the Hallmark Archives, interpreted by a Hallmark artist, and then hand-blown and crafted by artisans in Poland.
Set includes 3 Christmas tree ornaments.
This set of blown glass Christmas tree ornaments features gemstone accents. Pre-packaged in a box for easy gift giving, preservation and storage. Dated 2019 in copyright.
Handcrafted in Poland. Inspired by art from the Hallmark Archives.
Hallmark has been your family-owned creator of greeting cards, gifts, gift wrap and more for over 100 years. We take deep pride in helping individuals connect in just the right way.
Glass Christmas tree ornaments are lead-free; each ornament measures approx. 1.57" W x 3.54" H x 1.96" D.