---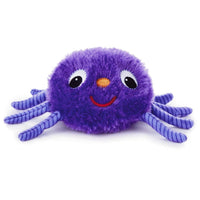 Pull the string on this playful purple stuffed spider and watch him scamper across the floor. Hours of fun for little ones. Makes a fun Halloween toy.
There's no shame in being fearful of spiders, but this fluffy, 8-legged critter is anything but scary as he scampers across the floor. Just pull the string of this perky plush purple fellow and watch him go! He's one creepy-crawly you won't mind having in the house this Halloween.
Plush spider toy that moves when you pull the string.
Perfectly sized for a fun add-on gift.