---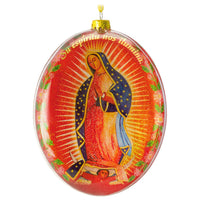 This beautiful glass ornament of Our Lady of Guadalupe is a sight to behold with the red background color. Traditional floral imagery encircles the image of the Madonna. A Hallmark Keepsake ornament is much more than an ornament - it?ÇÖs a little work of art that tells a big story. From people and things you love, to memories of the past, to capturing today?ÇÖs important moments, a Keepsake celebrates the story of you!
On ornament: Su esp?¡ritu nos ilumina. English translation: His Spirit enlightens us.
Dated 2016.
Made of glass.
Pre-packaged for easy gift giving, preservation and storage.