---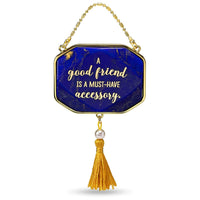 Give a sweet dose of hospitality with this white porcelain pineapple ornament that features shiny, metallic gold accents. It makes an elegant hostess or housewarming gift that will make a lovely addition to their Christmas tree.
Designed by Terri Steiger, this porcelain Christmas tree ornament comes pre-packaged in a box for easy gift giving, preservation and storage. Dated 2019 in copyright.
With unparalleled artistry and exceptional detail, each festive and collectible Keepsake Ornament is made for years of celebrations.
From preserving precious memories to commemorating special milestones and interests, there's a Hallmark ornament for everyone on your gift list.
Hallmark has been your family-owned creator of greeting cards, gifts, gift wrap and more for over 100 years. We take deep pride in helping individuals connect in just the right way.
Porcelain Christmas tree ornament is lead-free and measures 2. 5" W x 4. 4" H x 2. 5" D.