---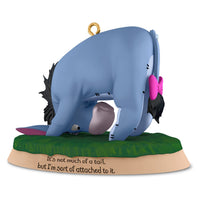 Sweet Eeyore is always "telling it like it is" and that's what we love about him?Çöespecially in this adorable Keepsake Ornament. A Hallmark Keepsake ornament is much more than an ornament - it?ÇÖs a little work of art that tells a big story. From people and things you love, to memories of the past, to capturing today?ÇÖs important moments, a Keepsake celebrates the story of you!
High quality, molded plastic Hallmark Keepsake ornament featuring It's not much of a tail, but I'm sort of attached to it.
Festive and collectable, Hallmark Keepsake ornaments come in a gift box dated 2016 on the top. Each ornament includes a 2016 copyright stamping. The box can also be used for ornament storage.
This HallmarkKeepsake ornament is 2.1 x 2.23 x 2.9 inches and comes in a gift box that measures 2.99 x 4.02 x 2.2 inches.
Each piece includes one Hallmark Keepsake Disney Winnie the Pooh "Eeyore Not Much of a Tail" Holiday Ornament in a gift ready box.
From commemorating precious firsts to celebrating happy milestones, there's a Keepsake Ornament for everyone on your list.
Hallmark has been your family-owned creator of greeting cards, gifts, gift wrap and more for over 100 years. We take deep pride in helping individuals connect in just the right way.
This Hallmark original keepsake ornament features high-quality craftsmanship. The ornament is lead-free and made for years of celebrations.