---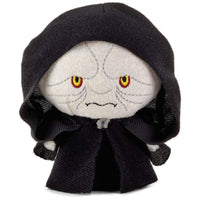 From seemingly humble beginnings as a Naboo Senator, Emperor Palpatine rose to power and ruled the galaxy through fear and tyrannyall while drawing strength from the dark side of the Force. The time has come for this stylized version of the shrewd Sith Lord to join your itty bittys collection. It is your destiny.
Emperor Palpatine itty bittys stuffed animal is crafted from soft plush fabric.
Measures 3.25" x 4" x 2.25"