---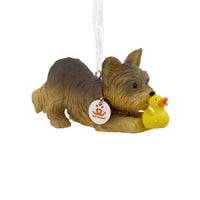 There's no better feeling than adopting a pet from a shelter and making it part of your family. Celebrate your rescue dog with this Yorkshire Terrier Dog Christmas tree ornament featuring a Best Friends Animal Society logo charm around its neck. Our sweet ornament version of this pup that fits easily in your bag or crook of your arm will appeal to those with a grab-and-go Yorkshire Terrier companion or similar breed mix at home. Hallmark is proud to partner with Best Friends Animal Society to help save the lives of dogs and cats in America's shelters.
Help pets find a loving home when you display this Yorkshire Terrier Dog Christmas ornament. Features a Best Friends Animal Society logo charm and long-haired terrier dog design.
Made of resin, this Hallmark Ornament measures 3.75 x 1.75 x 1.25 inches. The ornament is ready to hang on your Christmas tree with a hanger attachment.
Great gift for dog owners and pet parents.
Hallmark Ornaments are a great way to commemorate hobbies, life events and individual interests. Each festive and collectible ornament is perfect for sharing with family and friends.
Each purchase includes one lead-free Christmas tree ornament packaged in a gift-ready box.