---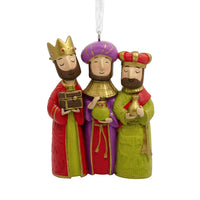 Celebrate the season with this colorful ornament depicting the Holy Family. With its vibrant colors and sculpted Nativity design, this decoration is a festive addition to your Christmas tree and a thoughtful reminder of the true meaning of the holiday season.
This faith-filled Christmas tree ornament features Mary, Joseph and baby Jesus with the star of Bethlehem. Its colorful design celebrates the birth of Jesus and the miracle that is Christmas.
Made of resin, this Hallmark Ornament measures 2.05 x 3.77 x 0.76 inches. The ornament is ready to hang on your Christmas tree with a hanger attachment.
Great as a religious gift or an expression of faith for pastors, family and friends.
Hallmark Vida Christmas Ornaments share a meaningful and memorable celebration of Latino culture and experience.
Each purchase includes one lead-free Christmas tree ornament packaged in a gift-ready box.