---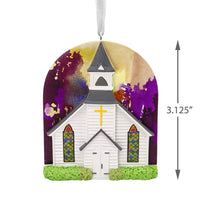 Celebrate the reason for the season with this charming Nativity ornament, a beautiful representation of the birth of our Savior and the miracle that is Christmas. Features a depiction of the Holy Family with a joyful message: "Jesus Is the Reason." Hang from your Christmas tree as a reminder of faith and the true meaning of the holiday season.
This Mahogany ornament celebrates the birth of Jesus, the miracle of love and how one sweet birth changed the earth. A "Jesus Is the Reason" message highlights the true meaning of the holiday season.
Made of resin, this Hallmark Ornament measures 3.125 x 3 x 0.375 inches. The ornament is ready to hang on your Christmas tree with a hanger attachment.
Great as a religious gift or an expression of faith for pastors, family and friends.
Mahogany provides festive, authentic Christmas ornaments that are inspired by and celebrate African-American culture and history.
Each purchase includes one lead-free Christmas tree ornament packaged in a gift-ready box.