---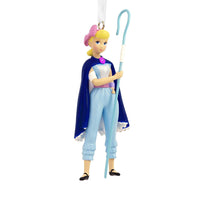 Woody always had a special place in his heart for his friend, Bo Peep. Celebrate the newest installment of the beloved Disney/Pixar movie series, "Toy Story 4," and the prominent role the savvy shepherdess plays with this charming Bo Beep Christmas tree ornament.
Celebrate Disney/Pixar's "Toy Story 4" with this ornament of Woody's friend, Bo Peep. The savvy shepherdess makes a charming addition to the Christmas tree.
Made of resin, this Hallmark Ornament measures 1.81 x 3.92 x 0.83 inches. The ornament is ready to hang on your Christmas tree with a hanger attachment.
Great gift for fans of the Disney/Pixar "Toy Story" movies and Bo Peep.
Hallmark Ornaments celebrate characters from contemporary and classic movies, TV shows, toys and entertainment. Each festive and collectible ornament is perfect for sharing with family and friends.
Each purchase includes one lead-free Christmas tree ornament packaged in a gift-ready box.